The Dis-Chem Group is South Africa's fastest-growing pharmaceutical retail group with operations in South Africa, Botswana and Namibia. The group was founded in 1978 with one store in Mondeor, south of Johannesburg and has since grown to over 200 stores to date.
Our Head Office is based in Midrand, Johannesburg, and we employ over 18 500 full-time and part-time employees. We believe that in today's dynamic and continuously changing world, our human capital is what differentiates us from our competitors. We give our employees training to ensure that they have the greatest possible support to do their work and develop themselves as individuals.
Our strategy is built around our pharmacy first approach, which means that we have a Dispensary in all of our stores to service our customers at any time when they enter a Dis-Chem Pharmacy store. As a leading specialist in beauty, healthy food, sport supplements, health and well-being, we offer the widest ranges in these categories and expert advice. The brand is synonymous with excellent customer service, and we pride ourselves in being a destination discount brand following an Everyday Low Price ("EDLP") strategy.
In 2016, Dis-Chem was listed on the Johannesburg Stock Exchange. The Group is still managed by its founders, Ivan and Lynette Saltzman being the Chief Executive Officer and Managing Director respectively.
We have been rated as the country's best pharmacy chain by Professional Management Review and voted as the Best Pharmacy, Best Medical Supply Store and Best Health Store in The Star Your Choice and Pretoria News Readers Survey.
In 2020, the Group was recognised as the winners of the Best Pharmacy, Best Health Shop and Best Toiletry Store in The Star's Readers' Choice Awards. Furthermore, we were voted as the coolest Health and Beauty Specialist in the 2016/2018 Sunday Times Generation Next Awards. In 2014, we were the recipient of the Leisure Options Readers Awards and voted the best pharmacy brand by Readers Digest SA.
Our social responsibility programme is managed through the Dis-Chem Foundation. The Foundation aims to provide care and support to improve the lives of individuals while relieving the burden on communities, family and friends.
What Our People Say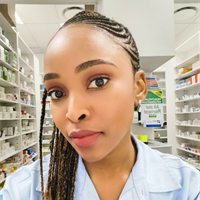 Mandisa Tenza
Pharmacist Intern
"I love working at Dis-Chem as it is a great learning environment. My colleagues are an inspiration as they deliver on providing excellent customer service, a high level of integrity, and are committed to their work – which inspires me a great deal."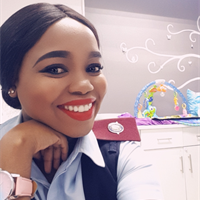 Narletia Moja
Clinic Sister
"I love working at Dis-Chem because every day I get to live my dream of being a Clinic Sister. Within my role, I serve a diverse client base and that has taught me valuable lessons which has been an absolute joy."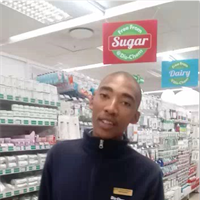 Tshepang Rankoko
Merchandiser
"I am fulfilled in my role as I provide excellent customer service daily - which I am passionate about. My colleagues are caring, and I learn a lot from them. I see myself growing at Dis-Chem as there are various learning and growth opportunities."